Back to top
Arctic Rescue Victoria Inc.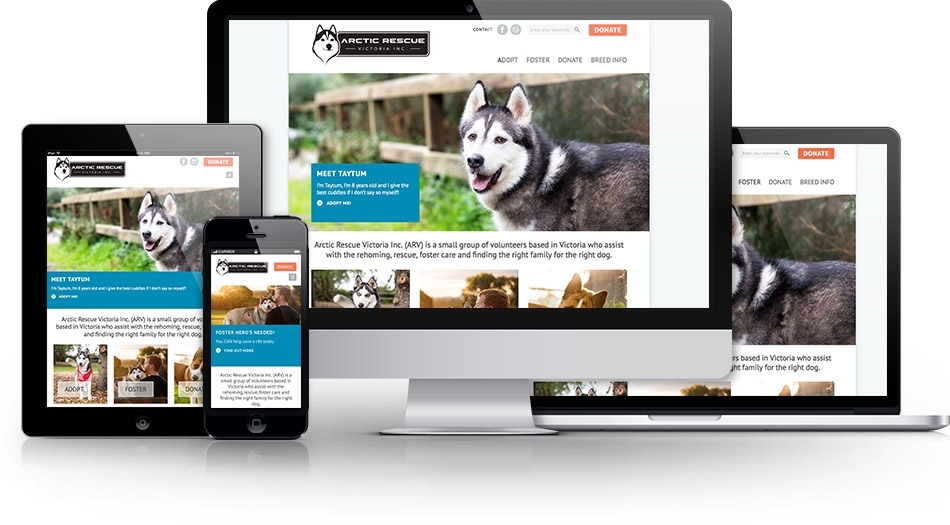 Arctic Rescue Victoria Inc. (ARV) is a small group of volunteers based in Victoria who assist with the rehoming, rescue, foster care and finding the right family for the right dog.
The Project:
Arctic Rescue Victoria Inc. is a brand new not-for-profit organisation setup to assist with the re-homing, rescue and fostering of arctic breed dogs. The website is a very important tool for the organisation as it allows them to promote dogs that are ready for adoption or in need of foster care. As a volunteer run organisation, the ability to collect donations online as well as sell tickets for fundraising events helps raise funds so the organisation can keep saving dogs in need. Arctic Rescue were the recipient of on of three $5000 web development sponsorships that Web Prophets offers each year to not-for-profit organisations.
The Solution:
ARV were one of our 2016 NFP grant recipients, which allowed us to build them a new website in Drupal CMS aGov. The primary focus of the site is the dog profiles, which people can apply online to foster or adopt. CiviCRM was also implemented in the back-end so ARV can start collecting information on future adoptees and foster carers. Online donations for once-off, reoccuring and 'in memory of' was also setup on the website. With the eCommerce back-end, ARV can also create other products such as tickets for fundraising events and to sell merchandise in the future.
Creative Design
/
Drupal CMS Development
/
eCommerce
/
Website Hosting
"Coming to Web Prophets with a visual blank slate we were instantly impressed with how well they 'got' us. So much so that our final website design is 99% the same as the original concept. On the flip side; we knew exactly what functionality we wanted and Web Prophets made it happen. The Web Prophets team knew just how to convey our key messages effectively, whilst still providing a detailed and informative site that is easy to navigate and doesn't feel cluttered. Web Prophets took the time to get to know our needs, current challenges and develop an understanding of what our organisation aims to achieve. This attention to detail ensured our site is easy to use for both our potential clients and ourselves."
Co-Founder, Arctic Rescue Victoria Inc.